Every week, we spotlight a brand new track from an artist we love for our Free Weekly Download! Listen, discover, and download a new track each week courtesy of WNRN.
Take WNRN with you wherever you go with our free mobile app! Download it now through the links below.
Monday
Tuesday
Wednesday
Thursday
Friday
Saturday
Sunday
Monday
12am – 6am: WNRN Music
6am – 10am: Bob Mosolgo
10am – 2pm: Amber Hoback
2pm – 6pm: Jeff Sweatman
6pm – 8pm: World Cafe w/ Raina Douris and Stephen Kallao
8pm – 12am: Brian Meffle 
Tuesday
Wednesday
Thursday
Friday
Saturday
Sunday
WNRN's commitment to being a voice for our community extends to sharing the real issues facing us, and together in partnership with the Charlottesville Area Community Foundation, helping to identify ways to get involved and make a difference. Through our "Hear Together" profiles, which run during regular programming on our station, we hope to shed light on the issues that face our area and inspire awareness and action. 
WNRN is proud to give our non-profit neighbors a venue to promote their causes and events.
Culture Connection takes a light survey of the upcoming arts and cultural events going on in the region to spotlight for our listeners.
Every weekday morning, join Bob Mosolgo for a double-feature, Decade of Difference. Bob will highlight on an artist or group that has been creating music for at least a decade. First, he'll feature a tune by that group around 7:50. Then, he'll fast forward 10 years and play another song by that same artist an hour later.
Our WNRN listeners are often treated to performances and interviews with artists they frequently hear on the station through our In-Studio Sessions. By becoming a Member, you'll have the opportunity for in-person access to these performances and interviews. 
WNRN supports Virginian artists through its regular and specialty programming.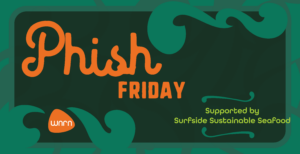 It's Phish Friday on WNRN every Friday at 4pm! Tune in as we highlight a track from a different Phish concert each week.